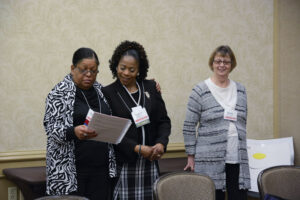 The Presidents' Academy (not just for new or local presidents anymore) seeks to provide training on transformational leadership – this foundation moves away from the typical transactional model many locals find themselves in. The Presidents' Academy will not only teach you the skills you need to perform the tasks of the president to help run a full capacity local, but will also give many opportunities for personal growth to take your leadership to the next level. You will be connected with leaders from similar locals as well as experienced presidents to help provide mentorship along your journey.
The Presidents' Academy is a two-year commitment with most of the trainings typically in conjunction with our Summer and Winter Conferences with additional virtual options. Member engagement and networking opportunities, as well as book studies, compliment the training leaders receive.
At the end of two years leaders will be invited to stay to continue their learning as well as help mentor new presidents. All expenses (within reason) will be covered for all required training which includes overnights, meals, mileage, cost of substitutes or your daily wages up to a maximum of $125 per day. In addition, release days may be granted to local leaders who do not receive days for special projects based on the size of their local with a minimum of one half-day up to three days for larger locals without any release time.
Eligibility
In order to be consideration applications must:
Be a member in good standing (dues paying member); this applies to your local too.
Be a duly elected local, region president or one that has been appointed by their executive committee to fill a remainder of a term of the past president who did not finish their term.
Be willing and able to commit to attend and participate in all required academy trainings, conferences and activities. Please check your contract and with your employer regarding the use of release days to participate in events like the Winter Conference.
Have access to and actively use a personal/non-work email for communication purposes (or request one through MEA, if you do not have one).
Click here for a detailed overview of program. For more information or to apply, please contact the MEA Vice President Chandra Madafferi at cmadafferi@mea.org.s